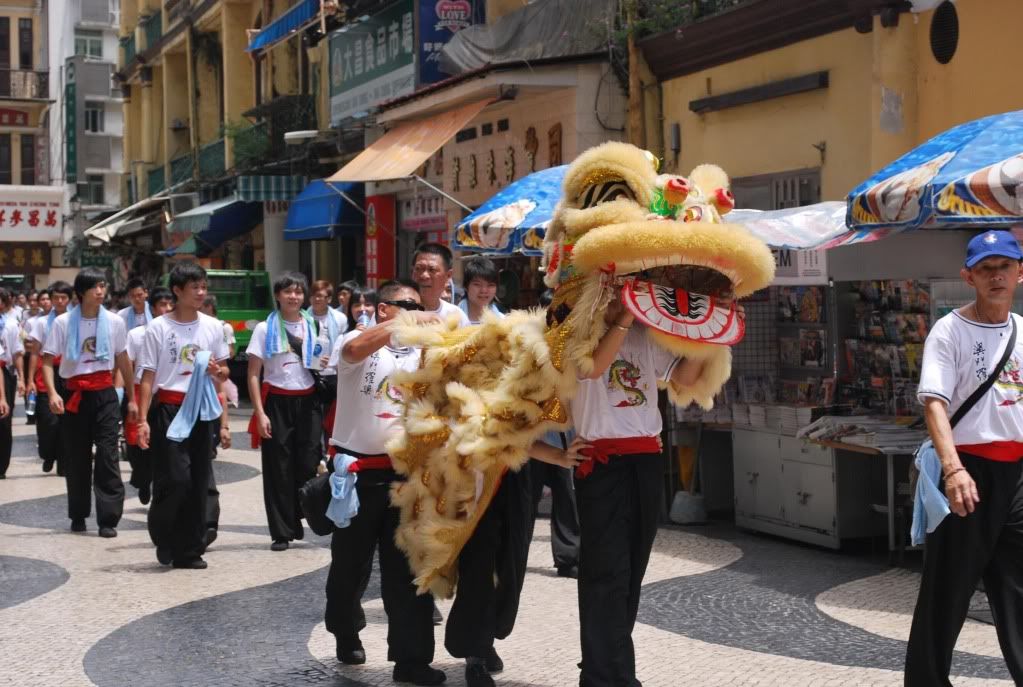 While busy shopping on Senado Square, my partial trance like state was briefly interrupted by the sound of banging drums and clanging cymbals. Being a sucker for parades and street musicians, I made my way downstairs (I was on the 4th level) to see what the ruckus was all about.
A bunch of students were making their way around the plaza with their yellow dragon. I was pretty sure that Chinese New Year was done way back in February so this was most likely a private celebration of their school. They were going around all the stores and dancing for "ampaw" which is like a money offering.

We arrived in Macau past dinner time. By the time we got to the hotel it was a little before 10 p.m. and we hardly had any time to eat. Lucky for us, there was a 7-11 outlet right across the street from our hotel so we made a quick stop to get some noodles which we would later eat in the room. I also bought some pastries from the hotel bakeshop/cafe for our midnight snack. Yup, we had egg tarts at midnight.
The following day we got up early so we could take in the sights of the old city. Not being big on casinos, my husband and I decided that we would rather see the many historical areas that pepper the city's landscape.
A few blocks from our hotel we were pleasantly surprised to see an old park (I think it used to be a fort of some kind) with its old, moss covered walls and ancient structures. What made it more appealing was that from our standpoint, in its background stood one of Macau's most imposing edifices, The Grand Lisboa Casino.
This was exactly how I imagined Macau would be like. A study in contrasts. With its ancient, Portugese structures set against a backdrop of modern and imposing steel buildings. Both worlds so beautifully preserved by the loving Macanese.