When Japanese Sweet Corn made an entry into our shores more than 2 decades ago, it didn't go unnoticed by moi'. Fortunately for me, one of the main men who brought this delicacy to us happened to be an alumnus of the university I was attending and was given permission to propagate an idle swath of land in the university for corn planting. Because of this, Japanese sweet corn was better known as Ateneo Corn for quite some time. Corn lovers from all over would trek to our school to buy corn. The students would hang out at the "corn shed" to have their daily corn fix. And some of us even used the corn fields as back drops for some of our school projects (we did a short video amongst the corn stalks during Senior year).
Nowadays, Japanese sweet corn can be found everywhere. We got our recent stash freshly picked at the plantation. It happened to be right across the street from the farm of my husband's uncle and we were there the other weekend.
After a brief lull, my green thumb is alive and kicking. And the recipients of 75% of my TLC…my Gumamela (Hibiscus) plants. The other 25% went to my mini herb garden.
A few snips and loads of fertilizer…Voila….they're in full bloom. I'm still waiting for 2 other Gumamela (pink and orange/brown) to bloom. They should be up and about in a week or so. I saw loads of buds popping out already.
I really enjoy hitting the playground with my kids. Whereas other parents will content themselves with just watching their kids play, I don't. I obviously still have some kid left in me. My fave are the swings. And what show-off I can be. I still know how to swing really high then when the time is right, I jump off the swing and land a few feet away. Much to the delight of my kids who think their Mom is the coolest Mom in the playground….hehehehe.
I was cleaning up my hard disk of pictures and I found this one from our last trip to Boracay. This was part of the lunch treat of my sister. We were all assigned to cover particular meals during our trip and instead of going to one of the restos, she had the resort's cook go to the market and buy some of the day's fresh catch.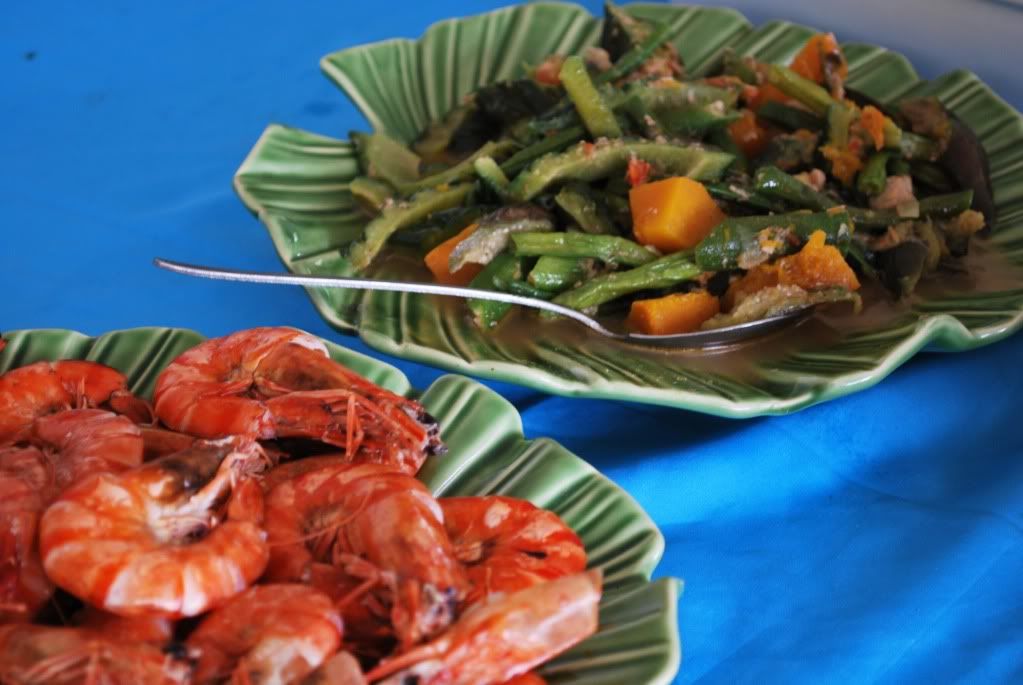 You can never be too careful when kids are in the pool. These yellow cone thingies serve as warning devices for those frisky feet.