You read it right, we have no travel plans this year…none. Despite all the holiday travel deals that had me itching to buy tickets for almost every declared holiday…travel plans are officially and definitely on hold.
Yes, I'm quietly sobbing inside. I had every intention of seeing the temples at Siam Reap. I wanted to go to Malacca to have a feel of what it was like during the era of the spice trade. I was even checking out deals to Machu Picchu and had every intention of riding a llama bareback as I trudged the beaten path towards the bastion of Inca civilization. And who can forget our botched summer trip to Kyoto last year in time for the Sakura festival (which was cancelled because of the earthquake).
But all that is for good reason. All time, energy, and funds will be going to the House Project. As I mentioned in an earlier post, we will be building our dream house this year. Its on hold at the moment, thanks most in part to the snail pace of our building officials at City Hall. However, with a little praying and a teeny-weeny bit of cajoling from some of our "friends", we may be able to get our permits sooner than later.
So, my suitcases are stashed….for the meantime.
This trip took 2 years to finally get off the ground….so to speak.
Last year, we booked our tickets to visit Bangkok for the summer when things when awry right smack in the middle of busy Bangkok. To make the long story short, we cancelled and rebooked our tickets for another location.
This year we finally made it!!
Never mind that the heat was this close to being oppressive. Never mind that we arrived in the city right smack in the middle of Songkran and were promptly doused with water by street revelers. Never mind that I almost burned the roof of my mouth off while ingesting a serving of chicken with basil which I got at the 7-11 outlet across the street from our hotel. And never mind that I wasn't able to shop much.
All in all, it was way more than fun. I'm glad we went and I'm really planning to go back again.
On the morning of March 11, my hubby handed me a sheet of paper which contained a list of requirements for a visa application to Japan. The hubby had some business matters to attend to in the town of Fukushima in Hiroshima and he scheduled it for mid-April so it would coincide with the entrance of spring in Japan.
Since we were to fly in via Osaka, it would have been perfect. Osaka and the old capital of Kyoto are next door neighbors and is the best place to experience the coming of spring in Japan. Why? Sakura…Cherry blossoms.
I so wanted to experience the festival…the kids too. It was all mapped out. I even scheduled our arrival on the best time that the flowers would be in bloom.
But, we all know what happened next.
By afternoon the Big One happened. And despite it happening in another part of the country, we didn't want to take any risks…especially with the kids in tow. I was still hopeful though. I patiently waited for things to be ok in Japan…openly hoping that it would be safe to travel there. So much so that I refused to book any other flights until I was sure that Japan was a no-go. I even went ahead and secured all the requirements for visas and even made sure that all of us had a secure Medicare plan in preparation for a supposed  trip.
But everything was pointing to a cancellation. Everyone was trying to get out of Japan and it just wasn't meant to be.
Instead I will content myself with my only Sakura sighting…..in Palawan. Slightly different…but still beautiful.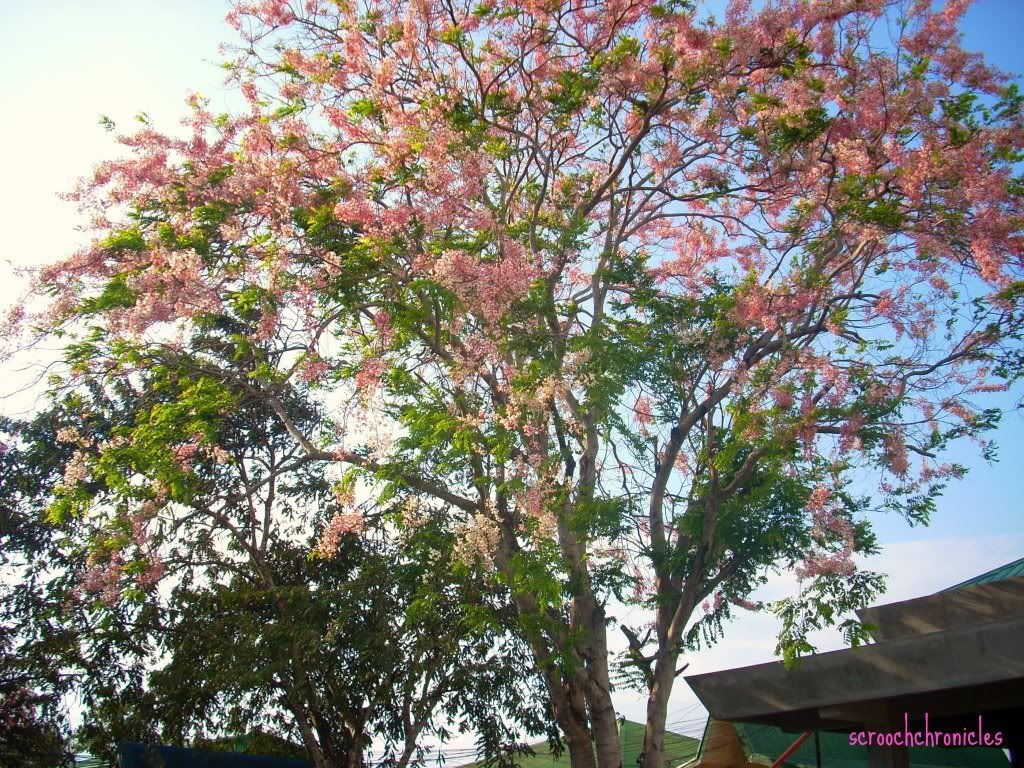 Hopefully next year will be the right time. And hopefully by the next blooming of Sakura, Japan will have gotten back on its feet. Here's praying for Japan.
It is official…we're off to Bangkok in 2 weeks!
Due to circumstances beyond our control…we had teo cancel our trip to Japan. Despite our destination being away from the destruction, my husband and I both decided that it wasn't at all safe to even bother taking the risk. Especially since the kids are going to be with us.
This was the same scenario last year when we had tickets booked to Bangkok. A few weeks before our departure, all hell broke loose in BKK. There were riots everywhere! I even had a bit of an argument with the customer service agent of the airline when I was trying to rebook our tickets. Suffice it to say that all ended well. We were able to rebook and went to Hongkong instead.
But BKK was really calling us. And so this year we shall heed that call. Woot!
This photo was taken at Ocean Adventure in Subic Bay. Much as I love going to that park, I sometimes think that it would be much better that those dolphins be released back into their natural habitat where they can thrive in the most normal way. However, it is also good to know that these creatures are actually victims of their natural habitat. We all know that there are many fishermen out there who resort to dangerous methods of fishing. And almost always the biggest victims are the dolphins and other animals like them. And for that I am thankful that there are the people of Ocean Adventure who have taken it upon themselves to help these hapless animals. It is through their efforts that a lot of people are made aware of the damage that mankind has done to nature. It is also through them and their wards….the dolphins…..that they spread the message that there still is a chance to salvage nature.